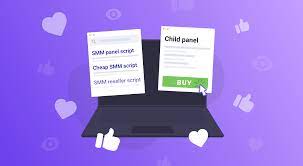 What is a Child Panel?
From its name, a child panel refers to a panel that has its connection derived from a regular panel. A child panel has fewer ranges of features when compared with a regular panel, and because of this, the user experience might be a little bit lesser.
SMM panel are known as sites where you can purchase marketing services for your customers,
They are of two types namely regular panels and child panels. This article sets out to intimate you about child panel and how they differ from the more popular regular SMM panels.
Order a Child Panel - $25/Month
How does the Child Panel work?
A child panel works in a way that you can specify the category of services that you want to provide to your customers. Whether you want to buy from a regular panel and sell to your customer's likes, followers, or video views on Facebook and Instagram, you can easily do this on your child panel. All you have to do is export all the services after selecting the categories of choice is to indicate the services you want to provide from your seller panel. You can sell to your customer and manage your customer orders without knowing them about your seller panel. Your customer will never know about your seller panel. Your Childpanel will only connect with your seller panel by API.
Cost of Maintenance
Most users opt for a child panel because the cost of panel maintenance is considerably low and cheaper than for a regular panel. Maintaining a child panel costs averagely $25 each month for Unlimited orders.
However, all cheap SMM panel orders and maintenance still go through the regular panel that a child panel is linked to.
famestate has provided that all customers who are on Elite, VIP, or Master Statuses be given child panel maintenance free of charge for their lifetime.
Features of Child Panel
Despite having lesser features than the regular panel, the child panel, however, has unique features that make it a good panel. These are some of the features available in your child panel
1. Order Refill
Order refill feature on your child panel enables you to re-activate and import a particular service on your child panel immediately it terminates. You will be able to set the number of das and the frequency.
2. Email verification
This feature helps you to prove the identity of your customers. Some customers may intend to scam you by providing false contact addresses and the likes. A good way to get in touch is by verifying their email addresses to be sure of their identities.
3. Custom header and footer
It allows you to connect your child panel with Google Analytics and other kinds of panel track. You can easily generate reports and insights. Just copy your tracking code into the custom code sections.
4. Subscriptions
5. Tickets system enabling
6. User Management
You can manage your all customer details from User page.
How to order child panel on famestate.com
For you to place orders for your child panel on famestate.com, you start by;
1. Renaming the name server of our customer's domain
You can do this by visiting your website where you purchased your domain. After that you need to change the name server and set it to :
ns1.perfectdns.com
ns2.perfectdns.com
For customers who do not have a domain yet, famestate.com can help them out with the purchasing domain. famestate.com will charge you 8.99$ per year for a domain. If you are VIP or Master account holder, its free of charge for lifetime.
2. Submit your order
The next step to order a child panel after changing your domain name server is to submit your order for a child panel. Important sections on the Orders section to fill in include preferred domain name, the currency of payment, preferred username, and password. You can then proceed to submit your order. Upon submitting your order, wait for about 2-3 hours before your order is approved. If your order is yet approved after this, ensure to notify us on Skype and we will resolve this.
3. Login to your child panel
After your child panel has been activated, proceed to login to your panel by providing your username and password. Once you have logged in, you can then make changes such as selecting a new theme, changing your language, time zone, and the likes.